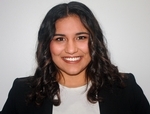 609-399-7036
609-399-4030 fax
609-432-0224 cell phone

nsm@marragency.com
2121 Asbury Avenue
Ocean City NJ, 08226
Receive Email Alerts from Me
Hello friends. I grew up in North Carolina and decided to settle here in Ocean City- "America's Greatest Family Resort" just after my first visit! I instantly fell in love with the beautiful sunsets, early morning bike rides, and the friendly faces that make this island the greatest. 
I graduated in 2012 from Pine Forest High School in Fayetteville, NC. While there, I was a member of the soccer and swimming varsity teams. I enjoy the outdoors, traveling, meeting people, and creating a network of friends. As a member and only daughter in a military family with three brothers, I lived in 7 different states and traveled to 4 different countries. This experience has really shaped my outlook on life and my personal core values; honesty, integrity, reliability, and a strong work ethic.
My personal mission is to provide high quality, honest, and reliable services when finding your perfect property. I am driven by my core values and my team to assist you in facilitating a smooth transaction. Please do not hesitate to contact me via email or phone for any of your real estate needs!